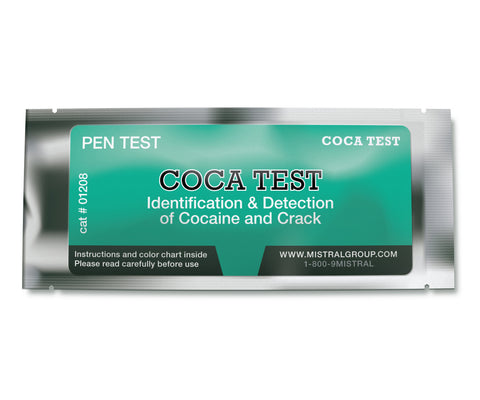 Coca-Test - Drug Detection Pen Test (Individual)
This PenTest option is for individual units only.
Pen Test pouches contain an Ampoule, two Collection papers and a Colour chart.
Coca-Test is an application based field test kit for the detection and identification of Cocaine, Crack, and PCP.  Coca-Test contains a patented modified Cobat Thicyanate (Scott) reagent.  Using then includes Mistral's Collection Paper, simply wipe the suspected surface or touch the substance and spray with Coca-Test.  A turquoise colour reaction on the Collection Paper indicates a positive reaction.
Identifies and Detects The Presence Of 

Cocaine, Crack, Methadone and PCP

 By Arrest Or Discovery Without Destroying Evidence

Can Detect Trace Amounts Of Illicit Substances Even If The Naked Eye Cannot See The Residue, As Little As 1 Microgram Per Square Millimetre

Fast and Accurate Results In Seconds, Easy-to-Use, Non-Toxic And Non-Destructive Test Maintains Integrity Of Evidence Collected

Ideal For Schools, Crime Scene Investigations, Law Enforcement, Border Patrol or Personal Home Drug ID Testing

Includes PenTest, Two Test Papers, Instructions and Color Chart For Easy Result Reading - Multi-Use
Advantages
The PenTests offer a number of advantages over the competition, including:
General screening, presumptive testing that catches 25 illicit drugs using no more than two tests
Specific screening, presumptive testing for individual illicit drugs, single test
Test results available in less than half the time it takes with current test kits
Non-destructive test maintains evidence collected in the field all the way to the lab
K-9 alert validation
No need for acid neutralizers
---
We Also Recommend