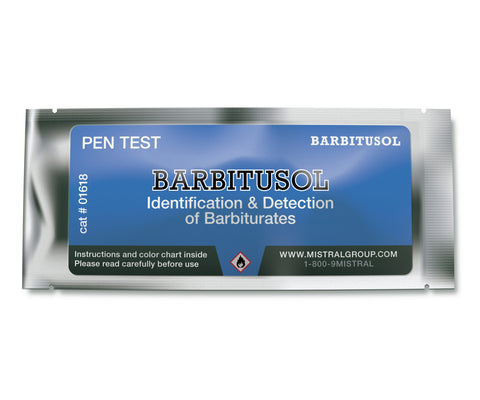 Barbitusol - Drug Detection Pen Test (Individual)
This PenTest option is for individual units only.
Pen Test pouches contain an Ampoule, two Collection papers and a Colour chart.
The Barbitusol Identification Pen Test from Mistral is an individual ampoule-based, hand-held colorimetric drug detection and drug identification test for barbiturates. The PenTest Series from Mistral Security is a collection of single or multi-drug identification kits that provide law enforcement officers and anti-narcotics operatives with a reliable field test kit for trace or bulk drug detection. Each test packet contains two test papers, a color chart and an instruction sheet.
Key Features
Portable, safe and convenient - allows "on the spot" drug screening without risk from broken glass or acid burns
Non-toxic, non-carcinogenic
Easy-to-use - no special training required 
Quick and accurate results - within 30 seconds
Preserves evidence - seized samples will not be compromised or destroyed
Advantages
The PenTests offer a number of advantages over the competition, including:
General screening, presumptive testing that catches 25 illicit drugs using no more than two tests
Specific screening, presumptive testing for individual illicit drugs, single test
Test results available in less than half the time it takes with current test kits
Non-destructive test maintains evidence collected in the field all the way to the lab
K-9 alert validation
No need for acid neutralizers
---
We Also Recommend