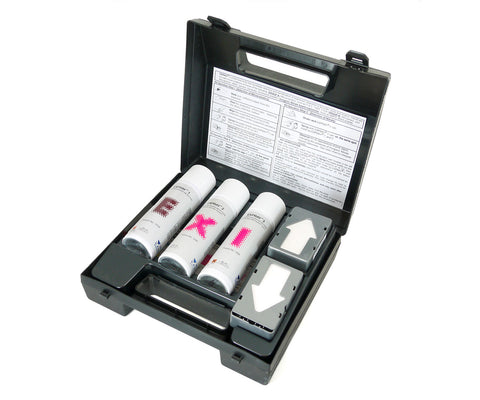 Expray Basic Kit
Expray is used as a pre-blast and post-blast tool.  When used as a post-blast investigative tool, the product is proven to speed up crucial investigations.  Expray is also used as a technical evaluation test in soil remediation on hazardous material "clean-up" sites.
The level of sensitivity (20 nanograms or less) surpasses that of other currently available products.  The testing process is fast and efficient.  No glass ampoules, spatulas, or waiting period required.  Results appear in seconds.  No additional tools or equipment required.  The identification and detection process requires no special training and testing can be performed "on the spot".
For both law enforcement and investigative personnel, Expray is a proven tool for increasing the accuracy, efficiency and number of interdictions.  For forensic and environmental laboratories, it has been proven to reduce the number of samples submitted for testing saving both time and money.
Expray is sold in a kit configuration, which provides all three aerosol sprays, collection papers, and an RDX-impregnated verification pad (verification pad is useful for ensuring that the spray still contains active reagents, and for demonstrating how a positive reaction will appear) in a convenient plastic carry case
Expray Capabilities:
Nitro Aromatic (TNT, DNT, Picric Acid, Tetryl)

Nitro Esters (Nitroglycerine, Smokeless Powder, PETN)

Nitramines (RDX, Semtex)

Inorganic Nitrates (ANFO, Black Powder)

Urea Nitrate

Ammonium Nitrate