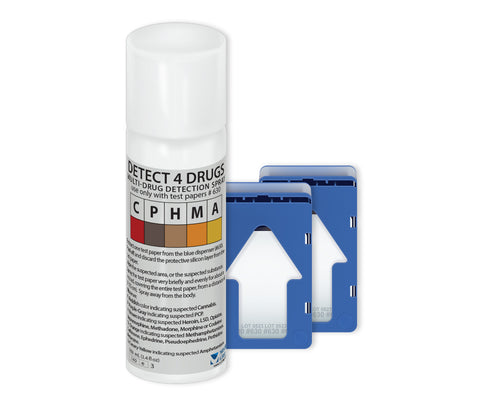 Detect4Drugs (D4D) Bundle - Drug Detection Aerosol
Includes:
Detect4Drugs (D4D) Aerosol
2 x Test Papers (#630, Blue)
This bundle includes everything needed to complete 100 tests.
Aerosols are the fastest and easiest to use presumptive drug tests on the market, detecting both trace and substance levels of drugs. These kits are inexpensive, easy-to-use, and easy-to-handle. You can mix and match any test you might need.
D4D
Detect4Drugs (D4D) is an aerosol reagent spray that will detect and identify several drugs at once. Wiping any surface once with the special Test Paper #630, and spraying the paper with the reagent from this can, will reveal traces of several narcotics.

Hashish and Marijuana: as reddish brown stains

Heroin, LSD, and Opium: as purple gray stains

Amphetamines: as canary-yellow stains

Methamphetamines: as orange stains
Features:

Detects trace drug residues
Bulk drug detection and identification
Will not destroy evidence
---
We Also Recommend