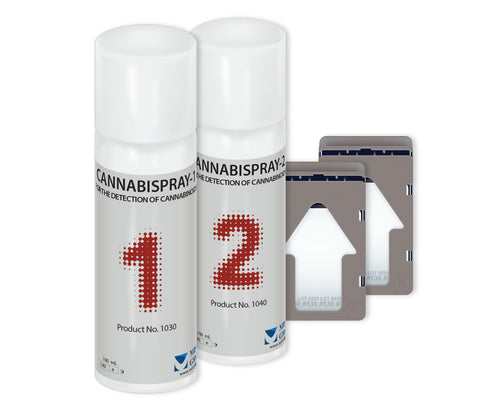 Cannabispray Bundle - Drug Detection Aerosol
Cannabispray 1 requires Cannabispray 2 for the chemical reaction required for the detection and identification of the respective drugs. 
Mistral Security Drug Test Kit.  Cannabispray is an aerosol based field test kit for the detection and identification of marijuana, hashish, and related drugs.  Cannabispray contains a patented modified Fast Blue BB reagent.  Product modifications have been incorporated to reduce the number of false positives, remove suspected carcinogenic elements, and stabilize this well known reagent. Using Mistral's Collection Paper (#530, Grey), simply wipe the suspected surface or touch the substance.  Spray first with Cannabispray #1 and then with Cannabispray #2.  A reddish brown colour reaction reaction on the Collection Paper indicates a positive reaction.
Includes:
Cannabispray 1 - Aerosol
Cannabispray 2 - Aerosol
2 x Collection Papers (#530, Grey)
This bundle includes everything needed to complete 100 tests.
Aerosols are the fastest and easiest to use presumptive drug tests on the market, detecting both trace and substance levels of drugs. These kits are inexpensive, easy-to-use, and easy-to-handle. You can mix and match any test you might need.
Features:
Detects trace drug residues
Bulk drug detection and identification
Will not destroy evidence
---
We Also Recommend